Ensuring Canterbury is a
safe place
for people to
live, work and visit
Call 999 in an emergency if a crime is in progress or life is in danger.
You can report a crime to Kent Police by phone, online or by text 24 hours a day, 7 days a week.
Report a non-urgent crime online
Talk to Kent Police via LiveChat
Use Kent Police textphone service 18000 if you are deaf or speech impaired – or text us on 999 if you have pre-registered with the emergency SMS service.
Receive updates and engage with your local Police on what matters to you with My Community Voice.
Visit the Kent Police website for more ways to get in touch.
The SafeZone App is an easy-to-use safety and wellbeing app for local residents and visitors to Canterbury, covering a large portion of the city centre. The app contains emergency numbers and information on local support and community services.
If you are student studying with Canterbury Christ Church University or the University of Kent, we recommend signing up to SafeZone with your student email address for support from your institution and connected routes feature.
Either Scan the QR code above on your mobile phone or go the the App Store or get it on Google Play and search for 'SafeZone'.
Get support, advice and guidance from your university
As a student, you can access a range of support through your institution and your students' union. This goes beyond academic support, and can provide advice, information, and wellbeing support for life outside the lecture theatre. This includes but is not limited to:
Mental health and wellbeing support
Financial advice and support
Information and support for students who have experienced incident(s) of sexual violence, harassment, discrimination and hate crime through Report + Support
You can provide an anonymous or named report, if you include your name the wellbeing team will be in touch to provide wellbeing support and guide you through a reporting process if you would like to pursue this
Information on university processes and procedures
Student safety information
For information on student services and support click on your institution below:
Support for people affected by domestic abuse
Rising Sun Domestic Abuse Service can provide a range of support, information and advice for adults and children who may be suffering, or know someone who is suffering, from domestic abuse. Rising Sun work in partnership with survivors and local services to provide a holistic and meaningful response to bring about lasting change.
To get support, information or make a referral:
Phone: 01227 452852
Email referrals@risingsunkent.com
The Canterbury in-person One Stop Shop is every Thursday 09:30 – 12:30 at Riverside Children's Centre. No appointment needed.
Support for survivors of sexual violence
East Kent Rape Crisis Centre provide a safe space for survivors of sexual violence across East Kent. We offer access to therapeutic and practical support to help people rebuild their lives. Anyone affected by sexual violence or coercion can call us regardless of whether your experience is recent, ongoing, or historical. We accept calls from people of any gender, age, religion, race or sexual orientation.
You can get in touch with EKRCC by:
Phone: 01227 451753*
Self-refer through the EKRCC website here
*Office hours are Monday-Friday 09:00-17:00. For details of out of hours support please see our website.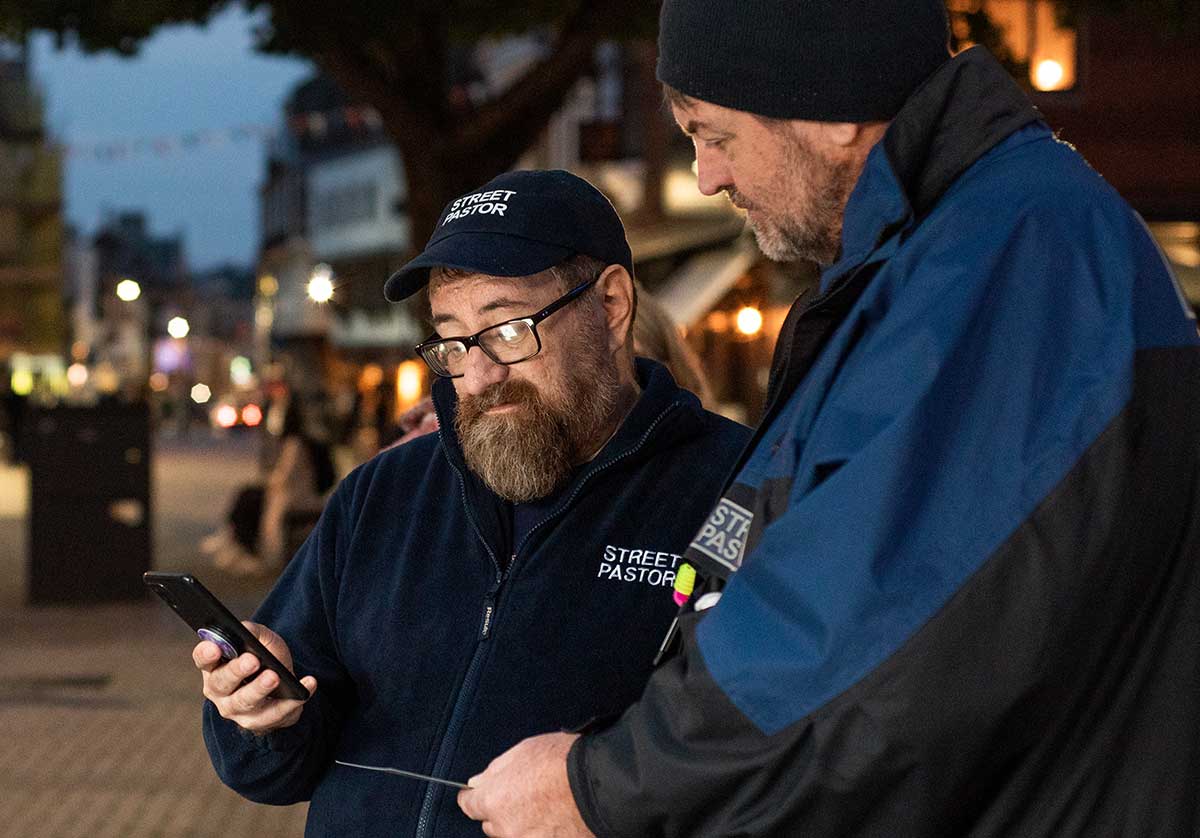 Street Pastors are volunteers from the church community in Canterbury and the surrounding areas who provide support to people on a night out in Canterbury.
The Street Pastors provide practical support including:
Flip-flops
Bottled water (hydration is key!)
Anti-spiking bottle caps and covers
First-Aid
Clearing away broken glass and tins
Helping people get home safely
Street Pastors patrol in Canterbury on Saturday evenings, usually between 8.30pm and 2am, depending on the season and demand.
If you are experiencing unwanted attention or need to safely remove yourself from an uncomfortable or unsafe situation you can discreetly "Ask for Angela" to bar staff in all Zero Tolerance and Best Bar None accredited venues. They will be able to provide a safe space and contact support services and Kent Police.
"Ask for Ani" is operated at pharmacies in Canterbury and provides information and support for victims of domestic abuse.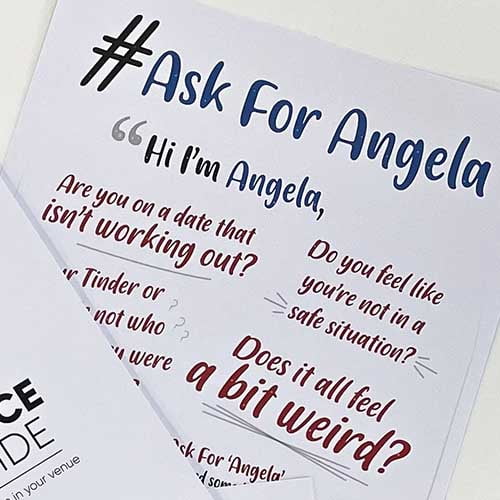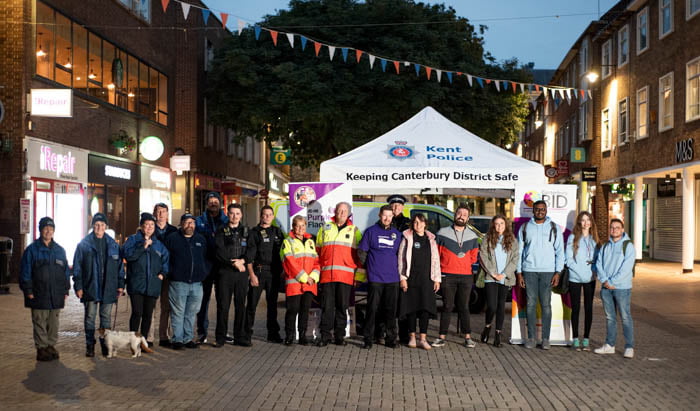 Safer Streets Street Marshals
Safer Streets Street Marshals operated by Right Guard Security are in the city centre on Saturdays* between 11pm – 3am. The Street Marshals can:
Provide first aid
Provide advice and support
Provide a walking accompaniment to the nearest transport link, refuge point or Safe Haven
Contact the emergency services

*The Safer Streets Street Marshals only operate in university term dates. For more information on term dates, click here.
The Whitefriars Safe Haven, accessible by the intercom systems signposted by Boots or Tesco Express, is a refuge point for anyone who needs to get to a safe place. Friendly security staff can contact emergency services, a taxi or a friend or family member on your behalf.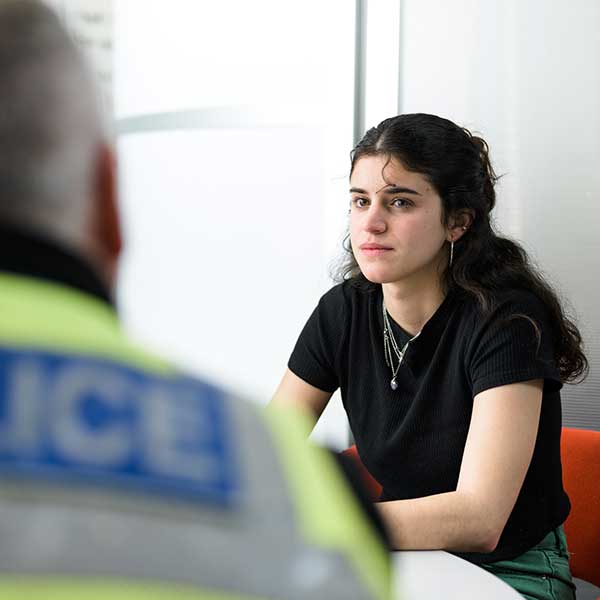 Services provided by your local council
Canterbury City Council can provide a range of support if you are experiencing issues in Canterbury, Herne Bay or Whitstable.
Bins and waste
Benefits and support
Housing
Environmental problems
Council tax
Parking and Roads

You can find out more about services available from your local council here. For any general enquiries or further information phone 01227 862000