A safety tool to quickly
contact
or summon
assistance
The SafeZone app is an internationally proven solution, owned and managed by CriticalArc, with millions of users around the world. Students in Canterbury already have access to their own version of the SafeZone app and as part of the Safer Street initiative, it was felt that residents, workers and those socialising in Canterbury should have access to the app. The Home Office funding allowed 10,000 licences have been purchased by KPCC for this purpose.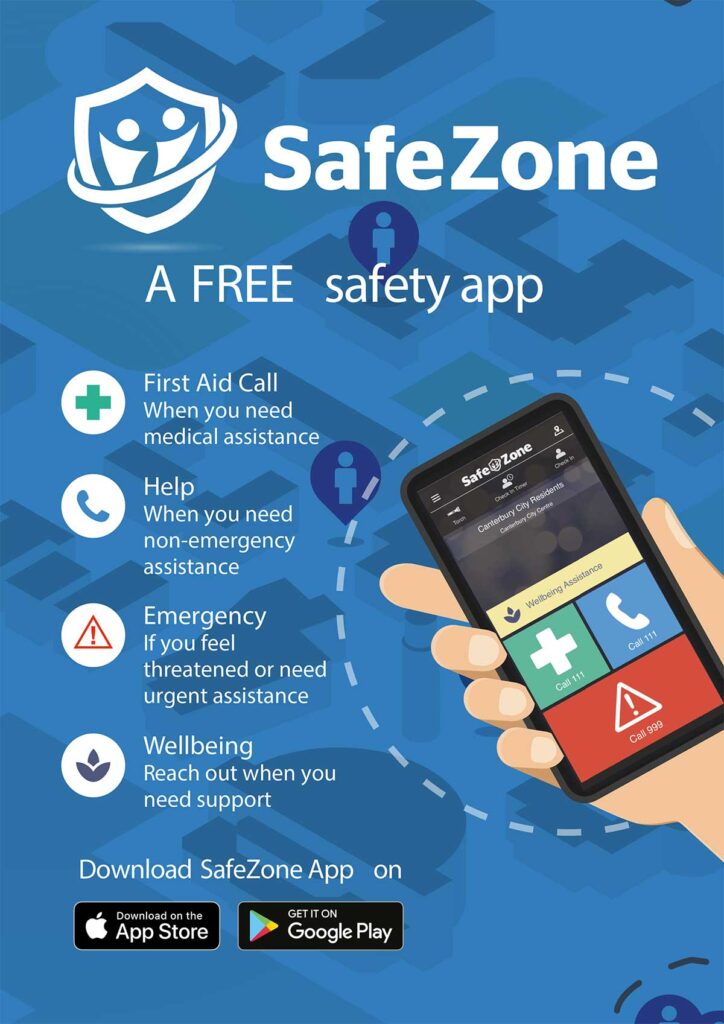 The Canterbury Residents SafeZone app equips emergency responders and leadership with this transformative capability. It provides full situational awareness and communications allowing the project team to coordinate a safe, rapid, documented, and proper response to any critical or daily safety or medical incident.
When downloaded, the SafeZone app will show four buttons to summon help when required. RED Emergency button patched through immediately to 999, Green First Aid button patched through to 111, Blue button to 101 and the Yellow button to wellbeing which will bring up links for advice and assistance. SafeZone app is effectively a safety tool that allows an individual to quickly contact or summon assistance if they feel unsafe or are being subjected to ASB, actual or fear of VAWG, criminal situations, reporting events, need police or medical assistance, need wellbeing assistance or seeking information and receiving updated alerts.
The key to a timely, effective response to an incident is understanding where it is, who needs help, managing limited resources and having proper communications with all involved. This lets decision makers manage complex situations, create a force multiplier, and achieve the best outcomes.
A strong advantage of deploying a tool like SafeZone is the engagement with local communities which can support introducing a strong transformative culture of safety for all. It forms a key tenant of the Canterbury City Safer Streets strategy moving forward, especially aiding residents within the city and attracting people back into the city making them feel safe 24/7.
SafeZone has strict privacy safeguards in place:
Supports mental health by allowing easy, direct, and documented access to medical, counselling, welfare, personal or other existing mental health services offered by local providers. It also supports named and anonymous reporting of issues such as sexual harassment, sexual assault, bullying, workplace violence, environmental tip reporting or damage to public property by documenting reports submitted and by automatically notifying elected officials when a report is made.
Provides security, dispatch and any emergency responder a common operating view including the identity and real-time location of person calling 999 or using SafeZone to request help. Shows security, dispatch and any emergency responders the real-time location of peers and assets in reference to the incident location.
Produces analytics, heatmaps, and recordings of all operational use for post incident review and analysis.
Canterbury Students may log on to the SafeZone app when in Canterbury City without having to download again as they are already registered with SafeZone.
Protecting and serving the people of Kent and responding to urgent and non-urgent incidents, tackling crime, ASB, domestic violence, VAWG, offering advice and assistance.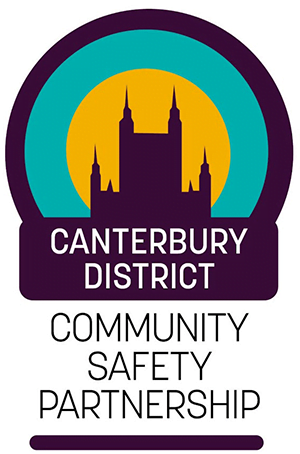 Canterbury Community Safety Partnership
Canterbury Community Safety Partnership (CCSP) is made up of representatives from local organisations known as 'responsible authorities' who work together to help protect our district from crime and make people feel safe. This includes all organisations attached to the Safer Streets Project.